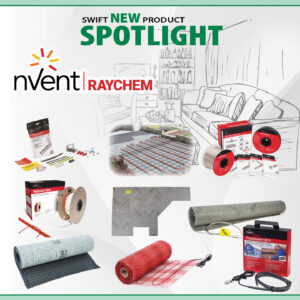 nvent|Raychem
Residential Applications
Safety & Comfort for the Home
Pipe freeze protection systems are flexible and easy to attach.
Both FrostGuard and WinterGard series protection are made to withstand dry and wet locations.
Roof and gutter de-icing systems protect from ice dams, heavy snow build-up, and icicles
Surface snow melting systems keep sidewalks, stairways and driveways free of snow and ice.
Electric floor heating systems offer the comfort of a warm floor that is maintenance-free for your customers.
Commercial Applications
Commercial Heat Tracing Solutions
Pipe freeze protection systems prevent freezing, bursting, and water damage.
Grease waste flow maintenance keeps the fat, oil, and grease mixtures in suspension from the kitchen to the interceptor.
Roof and gutter de-icing systems are ideal for modern membrane roofs and keeping roof drains free of snow and ice.
Surface snow melting systems provide constant heat to make even suspended stairwells and parking garages safe from ice.
Hot water temperature maintenance systems help save water by ensuring a quick, constant source of hot water.
Freezer frost heave protection includes solutions for both large and small coolers and freezers.
NUHEAT Floor Warming
Floor Heating Products for Every Application
Custom mats for complex shapes and sharp angles.
Standard mats for easy and fast installation.
Floor heating cable for on-site flexibilty.
Cable & Membrane for flexibility and adjustable heat.
Mesh for both on-site flexibility and fast installation.
NUHEAT Thermostats
NVENT NUHEAT SIGNATURE
Wifi-enabled.
iOS® and Android® apps.
Works with Amazon Alexa®, Google Assistant®, IFTTT®, and more.
Open API for custom integrations.
Displays live local weather forecast.
Includes all of the functions of the nVent NUHEAT Home thermostat.
NVENT NUHEAT HOME
3.5" color touchscreen.
7-day programmability.
Energy-use monitor.
Project Services
Proposals & Estimates
Consultation to develop Electric Heat Trace scope, applications, and outline required engineering deliverables.
Project Management
Manage design, supply, and installation services as well as the procurement, buy-outs, and delivery of materials.
Engineering & Design
Service teams available for custom layout drawings, on-site field engineering, and performance optimization.
Construction / Installation
Installation of heat trace products, power distribution, and control wiring, as well as on-site supervision.
Field Support
Commissioning/start-up assistance, troubleshooting,
repair, audits, training, and after market technical or field
support as needed.