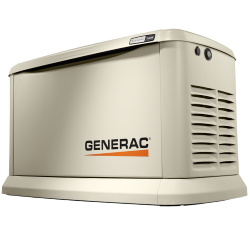 IN STOCK AT SWIFT!
Aluminum Enclosure Home Standby Generators with Wi-Fi
• Model 7223 – 14/14 kW Air-Cooled
• Model 7226 – 18/17 kW Air-Cooled
• Model 7042 – 22/19.5 kW Air-Cooled
• Model 7209 – 24/21 kW Air-Cooled
Power outages happen
From severe storms, outdoor incidents, even vehicle collisions.
That's why demand for business standby and home backup generators is growing. Are you ready to take full advantage of this opportunity?

Aligned Contractor Benefits
Gain Exclusive Access To:
Generator quote builder and sizing tool
Swift Factory-Trained Support Team
Factory Authorized Generac Training; In-Person & Online
Generac PowerPerks Rewards Program
Special consumer promotions that can help win you jobs
New product information and updates
Notifications about valuable programs and product news
Generac promotional merchandise, marketing resources, and more
Other Benefits Include
Jobsite delivery of all necessary equipment
Unmatched product availability and support
Service and support that you've come to expect from Swift Electrical Supply
Contractors can now sign-up FREE, earn points, and redeem.
Over 1000+ items to choose from!
1 POINT PER DOLLAR
Inverter & Portable Generators, Generac Mobile Generators & Light Towers,
and Generac CHORE & PRO Power Equipment
2 POINTS PER DOLLAR
Home Standby Generators, Automatic Transfer Switches, and HSB Extended Warranties
Get Started & Get Rewarded Today
Contact your Swift salesperson or visit:
www.generac.com/pro-resources