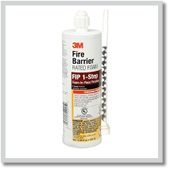 Firestop Products and Accessories
ALL PRODUCTS IN STOCK!
3M™ Fire Barrier Rated Foam FIP 1-Step
Designed to expand up to 5 times in volume after dispensing, This intumescent foam can be used to fill the annular space created by pipes and cables penetrating through fire-rated construction
Firestop tested and rated up to 2 hours in accordance with ASTM E814 (UL 1479) and CAN/ULC-S115
Re-enterable and repairable foam remains pliable after installation
Excellent adhesion and does not require backing material in wall or floor applications
3M™ Fire Barrier Composite Sheet CS-195+
Four component intumescent system is ideal firestop solution for larger penetrations such at cable trays and conduit
Forms effective intermittent fire-break within horizontal & vertical cable tray runs
Hard char material tightly seals penetrations against flame spread, smoke, and toxic gasses
Easy to cut, form, and install using ordinary tools
3M™ Fire Barrier Blocks, Planks, and Plugs –
A Better Way to Fill Large Gaps
Fills large gaps quickly while restoring wall integrity with simple "stack, seal, and done" application
Engineered to remain securely in place without wire mesh reinforcements
Pre-formed blocks fill large openings quickly – saving time and money
Material is easy to trim onsite without special tools, achieving a precise fit, without cure time
Material is paintable with primer for a more seamless appearance
Blocks are re-enterable and reusable minimizing waste and saving money
Combine with 3M™ Fire Barrier Rated Foam FIP 1-Step to easily seal openings
DESCRIPTION OF OUR SERVICES:
The Swift/3M team can help with system selection, training & certification and walkthroughs on the jobsite. Our full service approach and robust inventory levels will make it easy to add firestopping into your scope of work.
The Swift Electrical Supply – 3M™ Team
Delivering Unmatched Support
From Understanding Your Project Needs to Providing the Solution
Providing local best-in-class product support with inventory in-stock
Project consultations and needs assessments
Jobsite walkthroughs and certified application training
Specialized Firestop Training Available / 3M™ AIA Lunch and Learn Program
We offer AIA accredited firestopping product training if your company requires continuing education credits.