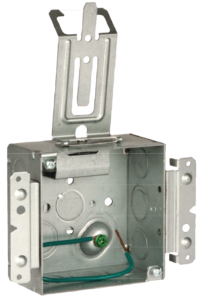 New RACO STAB-IT
RACO is proud to introduce STAB-IT®, a new line of boxes with built-in cable connectors for flexible armored cable.
The patent pending connectors are designed to lock the cable in place quickly and easily to increase production on every job.
Application
For any job where flexible armored cable is being used.
Product Features
Designed for quick installation of flex, MC, MCI, MCI-A, AC, and HCF Cable
Accepts cable sizes from 14/2 up to 10/3 for most cable types

3 TIMES FASTER than traditional connectors

Available in 4" sq. 2-1/8" deep boxes with 1 or 2 STAB-IT® connectors
Available in 2-1/2" deep switch boxes for new work, old work, and stud mounting
4" Square Boxes available with built-in cable management clip to offer first means of support
UL listed for use without a plastic bushing (except for AC Cable)
Each STAB-IT® connector accommodates two cables
4" Square Boxes available with "H" or "M" brackets for stud mounting
Pre-installed 8" solid #12 pigtail for faster installation
Suitable for use without a bonding jumper in circuits up to 600 volts
Patented design allows cable to easily be removed, and allows connector to be reused
UL listed
Patent Pending
Designed in USA
Save with the RACO 248HS
Save almost $1 per box with the components built-in!
The 248HS features 2 of our unique STAB-iT® connectors, which secures up to 4 MC cables per box! Installers get a termination that's fast, easy and secure
yet releasable and reusable. Plus it still has several knockouts.
And fewer SKUs means less work site waste to dispose.
The 248HS Includes:
4" square welded steel box, 30.3 cubic inch capacity
2 STAB-iT® Connectors, holds up to 4 MC cables
6 knockouts on the sides and 2 on the bottom
8" solid copper pigtail
Our "H" style mounting bracket on the side
Our UBS adjustable far side support
UL Listed