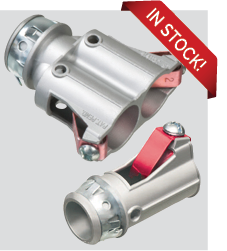 Snap2it Connectors
Get more done, solve jobsite challenges, meet code requirements and enhance safety
Product Description
Zinc die-cast, 1/2" Knockout MC cable connector snaps quickly on to the conduit with internal spring steel clip and then snaps into knockout with an external spring steel clip no tools required. Concrete tight when taped. Has Rectangular End stop and provided with insulated throat.
Top Product Features
Fits widest range and variety of MC cable 14/2 to 3/3
AC, MC, HCF, MC continuous corrugated aluminum cable and
MCI-A cables (steel and aluminum)...including the new MC-PCS
cable that combines power and low voltage in the same MC cable
ANY Snap2It Connectors LISTED for MC cable are also LISTED
for MC-PCS cable! These products offer the greatest time-savings.
Fast, secure snap-on installation
Easy to remove, reusable connector
From cable Loosen screw on top. Remove connector from cable. From box Slip screwdriver under notch in Snap-Tite® ring. Twist. Remove connector.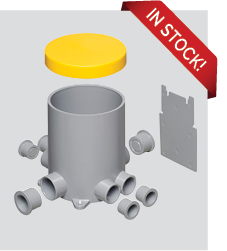 Floor Boxes
Reversible Leveling Ring • Six Conduit Hubs • Options for Divider Position
Product Description and Features
Arlington's FLOOR BOXES, COVER KITS, and accessories FOR NEW CONCRETE are the low cost, convenient way to install a receptacle flush with a new floor.
Made of heavy-duty plastic, our FLBC4502 4.5" non-metallic concrete floor box has more: SIX conduit hubs and FOUR plugs and THREE options for positioning the low voltage divider in the box.
The NEW FLBC4502LR leveling ring makes installing a cover easy on ANY 4.5" concrete box including our FLBC4500 and the new FLBC4502. It's REVERSIBLE! Side A fits any 6" round cover with a 3-1/2" screw hole pattern. Side B has a second set of holes that fits 6" covers with a 3-3/8" screw hole pattern.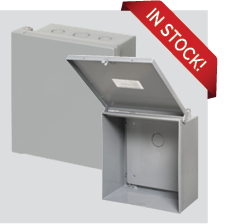 OUTDOOR RATED NON-METALLIC ENCLOSURES
Made of heavy-duty, non-metallic UV-rated material.
Features and Benefits
Meets NEMA 3R requirements for outdoor use when mounted with hinge on top
Optional cam lock (sold separately)
Non-metallic, handy 1/2" and 3/4" knockouts on top and bottom of enclosure box
Available in gray and black