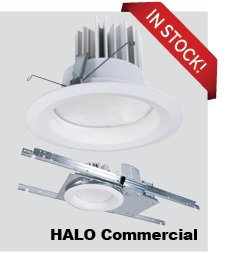 PR6 LED Series
6-inch LED self-flanged, lensed downlight and wall wash
Product Description
Halo Commercial = Efficiency + Value. And PR6 series 6-inch shallow lensed LED downlight delivers with available new construction, retrofit, and surface cylinder models. The PR6 series LED modules feature field selectable color temperatures, field selectable lumens, plus medium and wide beam interchangeable lens option included for ultimate flexibility. Select from low lumen 1000-1500-2000 lm range or high lumen 2000-3000-4000 lm range; and 3000K-3500K-4000K CCT in 80 or 90 CRI. Paint finishes include matte white, matte metallic silver, and dark bronze. Universal input 120V-277V driver with 0-10V 1% dimming. Specify a frame, retrofit, or surface housing and LED module separately to complete the luminaire. Suitable for general area commercial lighting with intended applications of healthcare, hospitality, and institutional utility spaces.
Top Product Features
Selectable lumens 1000/1500/2000 and 2000/3000/4000
SeleCCTable™ color temperature 3000K/3500K/4000K
80 CRI or 90 CRI
Medium & Wide beam distribution lens options included
Wall wash accessory kit
Matte White, Matte Metallic Silver, Dark Bronze paint finishes
Universal Voltage 120V – 277V
0-10V 1% dimming
Factory installed connected lighting and emergency options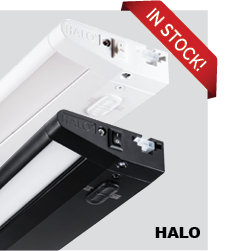 HU11 - Value LED Undercabinet
Available in 5 different lengths and 2 different finishes
PACKED with FEATURES
Ideal for task, accent, office, cove, utility and display lighting, the HALO Undercabinet low-profile design delivers maximum energy savings and long life. Configured to fit almost anywhere in 5 different lengths.
3 position external SeleCCTable™ color temperature switch allows users to choose between 2700K, 3000K, and 4000K and adjust to their lighting needs.
With the HU11's SeleCCTable™ tuning, homeowners can enjoy a uniform look to their kitchen lighting at an attractive price.
Contractor Friendly Across the Board
Installation is made easy, saving you time & money
Plug-in, direct-wire, easy-access mounts, and linkable install features makes installation quick
Easy Direct Wire Solutions with 2 headers for corded and linkable connections
3 SeleCCTable™ colors – Allows your customer to choose from 3 different colors
The HU11 has the ability to bring flexible conduit or armored cable directly in to the fixture to save space. Conduit connector and armored cable strain relief hardware is included with each fixture. Or you can use various plug in connectors for 120V applications.