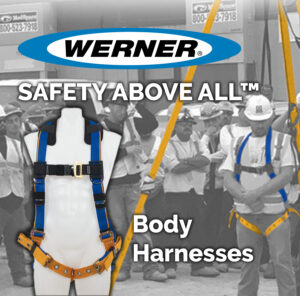 Werner Safety Above All
We're proud to partner with Werner, the industry pros dedicated to jobsite safety through superior products and training. Now available through Swift Electrical Supply, a complete range of fall protection products to keep your team safe and compliant.
Harnesses
Retractables
Anchorage Connectors
Leading Edge Solutions
Horizontal & Vertical Lifelines
Compliance Kits
Confined Space Gear
Drop Safety Equipment
Blue Armor H212002 Standard (Back D-Ring) Harness
Built in Relief Handles provide immediate relief after a fall arrest allowing you to reach a gravity override seated position
WebAlert™ inspectable webbing makes wear and damage visible and obvious, and with multiple impact indicators, makes inspection easier
Lightweight, form fitting padding with breathable compression interior is designed to protect user and prevent tangling when donning
Slotted pass through buckles on the chest strap fastens without twisting
Tongue buckle leg straps are ideal when multiple workers use the same harness
5-point adjustments for optimal fit
Meets ANSI z359.11 Standard for Full Body Harnesses
Werner ProForm™ F3 H012002 Standard Harness with Tongue Buckle Leg
Lightweight, athletic design and materials deliver maximum comfort without compromising safety
Dual-Back pad system provides cooling airflow and breathability and can be repositioned after a fall to reduce pressure on the clavicle
New WebAlert™2 inspectable webbing makes wear or damage clearly visible and contains a weather-resistant coating
Aluminum Quick Connect buckles include green indicator for visual sign of proper engagement
Focused padding minimizes weight and bulk, while inner compression layer reduces contact points and promotes airflow
Meets ANSI z359.11 Standards for Full Body Harnesses
H012002 | Harnesses | Werner US (wernerco.com)
---
In Stock at Swift Electrical Supply
and available for next day delivery.
I-Beam Fixed Anchor PT #A460000
Reusable Concrete Anchor, ¾ Hole #A510000
Swivel Reusable Anchor, ¾ Hole #A51001
I-Beam Slide Anchor Point #A550000
22" Rebar Positioning Chain Lanyard w/Hook #C191204
6' Softcoil Lanyard #C351100
6' Softcoil Twin Leg Lanyard #C451100
6' Softcoil Twin Leg Lanyard w/Rebar Hooks #C451200
Proform F3 Standard Harness, M/L #H012002
Blue Armor 1000 Harness, M/L #H212002
Blue Armor 1000 Harness, XL #H212004
Litefit Standard Harness, M/L #H312002
Litefit Standard Harness, XL #H312004
Litefit Positioning Harness, M/L #H332002
Arial Kit Compliance in a Bag #K122023
100' Vertical Lifeline #L201100
Max Patrol 20' Self-Retracting Lifeline #R410020
Max Patrol 11' Self-Retracting Lifeline #R430011
Max Patrol 11' Self-Retracting Lifeline w/Rebar Hook #R430011R
Trauma Relief Strap #T320000
18' Rescue Ladder #T340018